Manufacturing Excellence Conference
REGISTER HERE
THANK YOU TO OUR HOST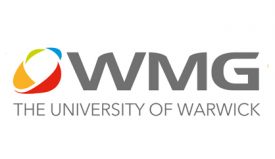 This years' Manufacturing Excellence Conference will take place on Thursday 13th September in the International Digital Laboratory at the University of Warwick. On the day we will have several guest speakers & the opportunity to hear from teams who will present on the excellent project work that has been carried out. This years' theme will be announced soon.
There will also be the opportunity for several of our supplier companies to exhibit in the break-out areas.
KEYNOTE SPEAKER
Richard will present on: "Making Reliable Processes Sustainable Through Changing People".
Richard Kelly is a management consultant with 30 years of industry experience including an early career with one of the world's most respected employers and, as a consultant, a track record of changing culture, delivering Lean and Reliability best practice and results in renowned, global organisations. An ability to present on subjects of interest with a style which challenges people to think differently in a charismatic, humorous but often pragmatic way.
He's a widely known industry expert on business transformation and productivity improvement. An experienced, energetic and engaging presenter prominent on the agenda of many leading Operational Excellence Best-Practice Conferences.
SPEAKING OPPORTUNITIES
If you would like more information on the opportunities available to present at the Manufacturing Excellence Conference 2018, please contact Chris Bennett.
EXHIBITING AND SPONSORSHIP OPPORTUNITIES
For more information on the opportunities to exhibit at and sponsor the Manufacturing Excellence Conference 2018, please contact Rachel Palmer.
EVENING DINNER
Once again we will be hosting the popular Evening Networking Buffet Dinner after the conference  in the Radcliffe Hotel, on the university campus. The dinner gives delegates the opportunity to relax and meet colleagues & friends, old & new within an informal atmosphere.
TICKETS
FREE for NMI/TechWorks Members to Attend
£125+VAT for Non-Members to Attend
THANK YOU TO OUR EXHIBITORS
Share This Story, Choose Your Platform!