Building a Trusted AI-based System: Linking the Parts
November 8 @ 12:00 pm

-

2:00 pm
Building a Trusted AI-based System: Linking the Parts
In this second webinar we focus on the communications infrastructure needed when building a trusted AI-based system. This includes the need for secure, robust communications which meet performance requirements for speed and latency both at the edge and with the cloud.
The webinar should help attendees to better understand their communications infrastructure requirements.
Agenda
---
| | |
| --- | --- |
| 12.00 | Introduction |
| 12.05 | Alex Mavromatis – University of Bristol |
| 12.25 | Tiago Rodrigues – Wireless Broadband Alliance |
| 12.45 | Ann Williams – Liverpool City Council |
| 13.05 | Martin Green & Catherine Gull – Cellnex |
| 13.25 | Close |
Speaker Profile
Alex Mavromatis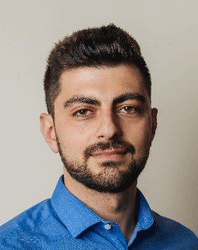 Alex received a B.S. degree in computer science, ATEI, Thessaloniki, Greece, in 2016. He received his PhD degree in 5G-Internet of Things (IoT) from the University of Bristol, Bristol, U.K. Currently working as a Solutions Architect for the Smart Internet Lab University of Bristol. He has experience with IoT and 5G projects such as smart cities and 5G testbed deployment and experimentation, funded by the EU and U.K. government. His current research interests include industrial IoT deployments, customized Industry 4.0 architectures, smart home architectures, software-defined networking/NFV, cloud/edge networking platforms, data management, and production quality assurance of machine learning models.
The shipping industry is a huge and complex industry, which is constantly being affected by global trends, materials and fuels. Shipping from land to sea to land is a costly business that suffers from multiple losses both financially and in time. As the value of data is becoming more clear by the day, the future networks will have to adapt as well to meet the needs of monitoring and smart decision making to streamline the shipping lifecycle. The 5GLogistics project is a UK innovation that develops technology and demonstrates how the networks will accommodate such volatile requirements of the future shipping industry.

Catherine Gull
Catherine has worked around telecoms and technology from the 1990's in the USA and UK including with start-ups focussed around cloud services for mobile interworking to positions at Cable & Wireless and BT.
Seven years ago, Catherine joined UK Broadband, eventually Three UK, to develop a business in Private Networks which included work with Heathrow Airport and the Port of Felixstowe. During this time, Catherine sought to move the story forward from 4G to 5G. Working with DCMS projects and consortiums found Catherine helping to define what's next for industry through the use of 5G.
Catherine's current role involves working with Cellnex/Edzcom to launch private networks in the UK from the successful base of Edzcom customers in Europe.
In addition to bringing the best of 5G innovation to industry and the public sector, Catherine's work on the board of the Kay Mason Foundation, which funds high school scholarships for impoverished children in South Africa, has given her a renewed passion for using 5G to help to bridge the digital divide that exists in the UK today.
Speaker Profile
Ann Williams
I am a Commissioning and Contracts manager of Adult Social services at Liverpool City Council, including being the innovation network lead which looks at innovative ways of delivering care against a decreasing budget and increasing needs. I have led the Liverpool involvement in the EU STOP&GO programme, Where I digitalised Liverpool Domiciliary Care services (value £16M+) introduced a LoRaWAN network and IoT sensors into current services. I led the DCMS Phase 1 5G Test Bed and Trial for Liverpool City Council and now the 5G Create project.  I am a member of the UK5G Advisory Board.

Martin Green
Martin Green is an accomplished Sales and Marketing leader with extensive experience and market knowledge of industrial automation, energy, automotive, oil, gas and telecommunications sectors. Martin is recognised as a driver for digitalisation, with a successful career formerly with Emerson Process Management, Control Techniques and Brush Industrial Controls.
Share This Story, Choose Your Platform!